Bueno hace ya rato que tenia estos comics de la Fuerza G (
Gatchaman
) y pues estan chidillos y se los comparto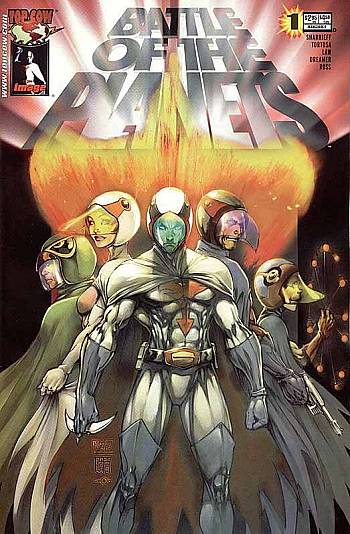 Se trata de una serie de
12 números
que coincide con el anime en cuanto a la estética y al argumento. De hecho, la historia comienza exactamente igual, si bien a medida que van pasando los episodios, el cómic se distancia marcando s propia continuidad. Cabe señalar además que el cómic es bastante
crudo y violento
como ya lo era Gatchman en los años 70, por lo que se permiten introducir escenas veladas de
sexo
, hacer referencias a la pornografía o mostrar a Keyop asesinando a un cuentífico con un bisturí.
Como el propio título deja entrever,
Battle of the planets
está dirigida a los aficionados americanos, aquellos que conocieron a Comando G por la versión de Sandy Park. Esto se nota en el uso de los nombres de los personajes (
Mark, Jason, Princesa, Tiny, Keyop, etc.
), si bien no aparecen los dos robots que Sandy Park introdujo en su versión.
Eso fue lo que haye de la wikipedia XD
Espero que lo disfruten como yo.